Large Tech Companies Presence Addresses Concerns for Affordable Housing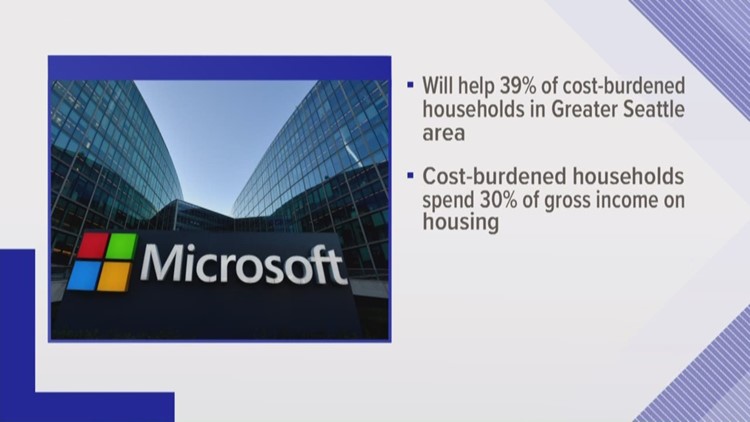 The growth of large tech companies like Microsoft and Amazon are causing a lack of affordable housing in the surrounding areas. 
---
A December report found that the Seattle region is in need of more than 156,000 affordable housing units, and if growth continues as it has an additional 88,000 will be needed by 2040. Microsoft reported that median home prices rose 96% in Seattle from 2011-2018, with median household income rising 34%. 
The $500 Million will go towards funding construction for homes affordable not only to the company's own non-tech workers, but also for teachers, firefighters and other middle– and low-income residents. Microsoft plans t have the money invested in three years, and expects most of it to go to Seattle's suburbs. 
$225 Million of the total $500 Million pledge will be allocated for lending at subsidized rates to preserve and build middle-income housing in six cities near its Redmond headquarters. An additional $250 million will go towards low-income housing across the region. The remaining $25 million will be used for grants to local organizations that work with the homeless, including legal aid for people fighting eviction. 
The Seattle Times reported that the allocation of the pledge to these different areas is due to the fact that if the $500 million were put into one project, it would create only about 1,000 units, so instead Microsoft will most likely put smaller amounts in many projects to help build "tens of thousands of units."
There have been increasing research studies that have directly linked the lack of affordable housing to increasing homelessness. A December Zillow Study said that this was especially true when households pay more than a third of their income in rent. The New York, Boston, Los Angeles, San Francisco and Seattle regions — the country's largest tech hubs — have all already crossed that threshold.
Hopefully, Microsoft's pledge will start a trend in these other tech hubs to reduce the amount households pay for rent relative to their income. Either way, this is the type of positivity we love to see starting off 2019.